Argh. I have been procrastinating this post.

Tried to write last night. Made another (feeble) attempt this afternoon. And now I am going to just give a short summary.
-=-=-=-
What can I say?
The weekend that I had been looking forward to the most has just ended and it has been one heck of a ride - anticipated & well satisfied!
-=-=-=-
14.03.2010 (Saturday)

两小时又四十五分钟的 Rock out 演唱会,high 到最高点。
Definitely one of the best live singers.
Started the concert with a very high 《王子的新衣》, followed by a medley of mix songs by others.
He showcased his talent in drums & piano too. Loved his drumming.
After showing a 'behind the scene' video footage of different possible ways to introduce himself, we ended up with this - a standup board of him lit up on stage, and he attemped to talk to us for 2 minutes (there was a countdown timer at the screen of 2 minutes). It was really amusing to be staring at the board while listening to him (not sure if it was a live voice over or pre-recorded).
Then, it was a series of cute dancing to 《看我72变》,《爱的抱抱》 & 《Nobody》. He isn't exactly the dancing type so he looked pretty dorky (in a cute way) when he danced. Hee.
An unofficial 'breaktime' came when he introduced Lee Wei Song & an upcoming newbie (whome I forgot his name already). The newbie had - to me - an irritating 鼻音 and I couldn't be bothered. Not very interesting.
The whole show ended in a high note of 《L-O-V-E》 & 《收藏》.
My thoughts:
I went to the concert with a bad flu & mild sore throat. Yet I ended up singing to every single song throughout the whole concert. Mind you, he sang a whole list of songs (plus he does't talk much either :D). Was just thankful that I did not end up with a bad sore throat the next day.
It was awesome rocking concert. I just wished the special guest be 方大同 - it would have been perfect.
Photos:
LQ photos taken at the concert itself cause I was using my handphone - SE Aino (no anti-shake).
A purplish night (FYI: Jam's fans are represented by purple)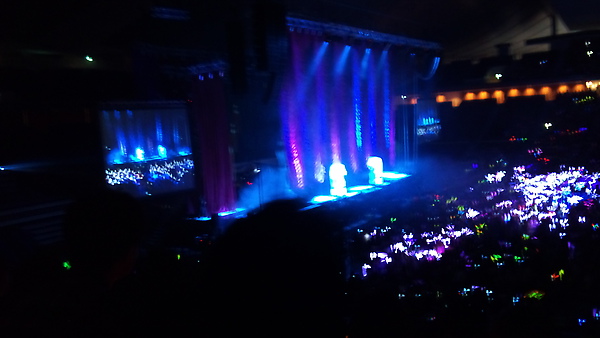 See the timer at the back of the stage and the stand-up board version of him?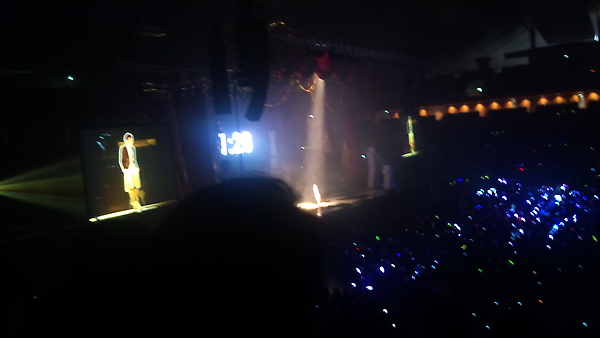 The Stand-up board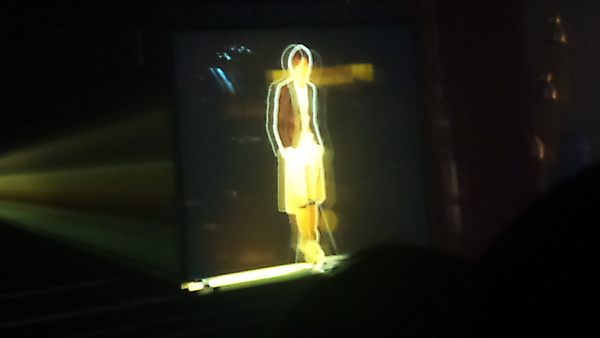 Click here for more photos. (Only photos of the merchandise we bought since I forgot to bring my Camera to the concert.)
-=-=-=-
F1 2010 - 1st race - Bahrain
15.03.2010 (Sunday)
Ferrari 1-2 win! [WCC - 43 points - Current leader]

P1 Fernando Alonso [WDC - 25 points - Current leader]

P2 Felipe Massa [WDC - 18 points]

So Vettel took pole position at qualifyings, followed by Massa at P2 and Alonso at P3.
Honestly, I think Alonso could have done better but was just unlucky with a 'not the best' kind of lap. But that's F1.
Red bull is fastest over one lap. No doubt.
After the concert, I was busy catching up with the qualifying news and researching.
Before I went to bed, my conclusion was the same as since the start of the winter testing -
Red Bull will be one of the fastest, but will come with reliability issues.
Alonso would (and eventually did) win the race.
The Red Bull conclusion came from some evidence in 2009, mostly during winter testing and even at Bahrain practice sessions. Along with many, I knew that Red Bull was in top 4, and very fast. Yet somehow, the car felt fragile and I tend to worry for it, wondering whether it might break down anytime, for whatever reason. This was the feeling I had gotten since the start of the winter testing.
The Alonso conclusion, I must admit, is bias. Being a Alonso fan, of course, I would want him to win.
But this conclusion came with an optimistic observation - he was on this odd lucky streak ever since start of winter testing.
For a day or two when it was his turn to be in helm of the F10, where weather forecasts indicated a wet day, it would end up with a day of sunshine through the rain. This was compared to team-mate Massa, who had less of such luck.
Before the race, my dad was telling me how Vettel seemed to be set to win the race. Immediately, I threw it back at him, offering my thoughts of Red Bull's reliability and it would probably break down halfway. Of course, I have been gleeing all day about how Alonso would win the race, despite starting from P3.
The rest is history.
My thoughts:
Unbelivable. This is the best way Alonso could have started this season with his new relationship with Ferrari, and the best way Ferrari could have started this season - making a comeback with a Ferrari 1-2.
Next stop - Australia.
Hopefully Ferrari will re-display its dominance.
I have read many speculations, thoughts, comments on a few topics which I wished I had the time to address. Some thoughts I have on the current affairs of F1 and some comments made by others (internet users) which I felt was unjustified for.
But this is the internet and people have their rights for their own thoughts, be it right or wrong. So it is kind of pointless for me to prove my point.
I will probably leave my thoughts on the current affairs of F1 to my next weekly F1 post.
-=-=-=-
Great weekend.